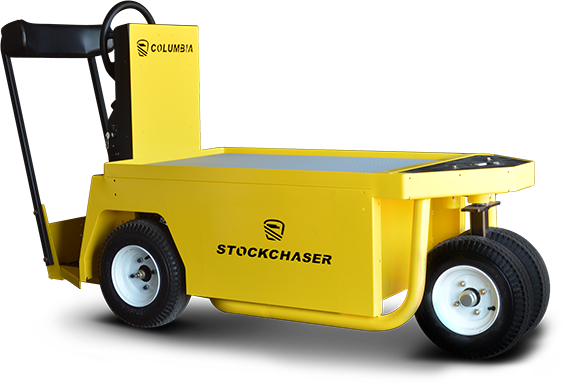 The Stockchaser replaces large, inefficient material handlers with a smaller, faster utility vehicle perfect for order-picking, stock replenishment, towing, materials expediting and more. A powerful 48-volt pure electric power system and 133-inch turning radius make it the perfect choice for carrying up to 1,200 pounds or towing up to 6,000 just about anywhere––all day long. An adjustable backrest and stand-up operation provide safety and comfort all day long while a tubular steel chassis and steel body panels make it as rugged as it is maneuverable.
Cushman Motor Company is a Columbia dealership.  We sell Columbia's complete line of all-electric industrial warehouse vehicles, utility vehicles, passenger shuttles, and carts. We sell new vehicles, OEM parts and offer factory trained service.  We're also experts at customizing Columbia vehicles, so if you're looking for a vehicle like the one pictured above (enclosed cab, heater, lockable cabvan), just give us a call at 612-333-3487.

THE STOCKCHASER IS THE WAY TO MOVE HEAVY LOADS IN TIGHT SPACES. WITH A DECK CAPACITY OF UP TO 1,200 LBS, YOU'LL BE HARD-PRESSED TO FIND MORE CARGO CAPACITY.