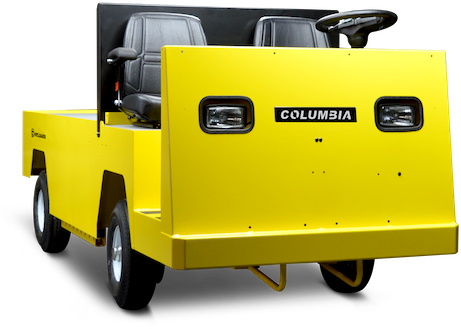 Take light or heavy loads to places other high-capacity burden carriers simply can't go and replace forklifts with a safer alternative. The Payloader carries up to 4,000 pounds, tows up to 18,000 pounds, and travels up to 17 miles per hour while offering exceptional maneuverability and efficiency without sacrificing durability. We use the same steel chassis for all weight classes to provide the dependability you need from a heavy carrier.
Cushman Motor Company is a Columbia dealership.  We sell Columbia's complete line of all-electric industrial warehouse vehicles, utility vehicles, passenger shuttles, and carts. We sell new vehicles, OEM parts and offer factory trained service.  We're also experts at customizing Columbia vehicles, so if you're looking for a vehicle like the one pictured above (enclosed cab, heater, lockable cabvan), just give us a call at 612-333-3487.

THE PAYLOADER OFFERS UNMATCHED VERSATILITY IN CARRYING AND TOWING CAPABILITY WHILE PROVIDING A LEVEL OF MANEUVERABILITY BEYOND THE TYPICAL HEAVY MATERIAL HANDLER.