Cushman Motor Company in Minneapolis is an authorized dealer for Ventrac, Holder 4X4 all-season articulated multi-function compact tractors.  We sell new and used tractors and attachments. We sell parts and offer exceptional service performed by our highly experienced factory trained mechanics.  Highly valued by our municipal, college, and commercial land care customers alike, all of our articulated compact tractors are extremely rugged professional grade machines with excellent warranties and high re-sale value. Questions?  Call us at 612-333-3487 or 800-759-5343 or fill out the form at the bottom of this page.
Want to see Ventrac? Go here.  Want to see Holder? Go here. Want to see Cushman Vehicles? Go here.
Our compact tractors have articulated oscillating frames. Why is this so important?
Do you work in confined areas containing obstacles like trash receptacles, lighting structures, planter boxes and more? Then you need a center articulating frame. Unlike a zero turn mower, skid-steer, or straight frame tractor – the rear wheels of an articulated tractor follow in the same path of the front wheels. This means the front or rear attachments follow the same path as the tractor, minimizing the space required to turn and reducing the likelihood of hitting an obstacle.
Center articulation also means that the tires at the outside of the turning circle always travel at the appropriate speed relative to the tires at the inside of the turning circle. This results in fewer turf gouges and happier customers.
What about oscillation?  An articulated tractor with an oscillating frame keeps all 4 drive tires on the ground even on the roughest of terrain. Result: Maximum traction when you need it the most, increasing your agility and safety on slippery slopes and rough terrain.
---
Our compact tractors are true all-season multi-function tractors. Why is that so important?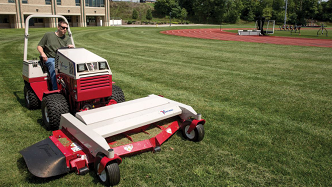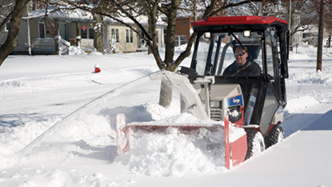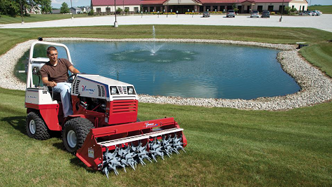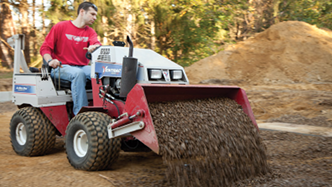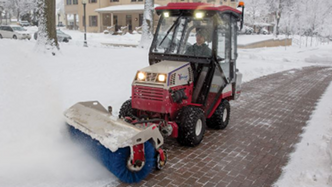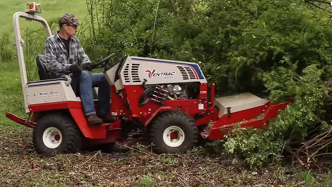 These machines work for you all year round. Why buy a machine that mows and then just sits there unused for eight months? Our compact tractors can mow and blow snow and aerate and haul rock and sweep and cut brush and about 30 other things. One tractor multiple functions. Now that makes $en$e.
---
Watch Ventrac demolish thick brush on a steep slope.  Want to see more?  Go to our Ventrac page.
---
Watch this video to learn about Holder.  Want to see more?  Go to our Holder page.
---