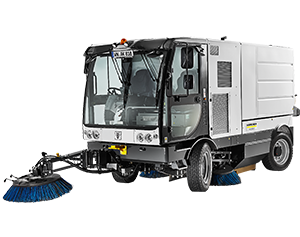 Whether it is for municipal applications in cities or suburban areas or in industrial environments with high cleaning requirements such as foundries, cement plants, mining operations: the Karcher MCM 600 vacuum sweeper is the best option for the most demanding sweeping requirements. The combined system with mechanical attachment for large dirt particles, a suction device for lighter materials and a filter system comprising several polyester filters, which effectively filter out fine dust in all conditions, guarantees a high cleaning performance without dust dispersion.
GO CRAZY FOR THIS MACHINE
With the MCM 600 vacuum sweeper, municipalities and industry have a system for all sweeping requirements – particularly when high sweeping capacities without dust dispersion are required.
The spacious three-person cab, with entry on both sides, provides maximum comfort for drivers at work
ROPS-tested safety cab with anti-vibration mounting
Efficient ventilation system and sliding window on the right and left
Easy access from left and right
Easy access to daily cleaning and maintenance spots
Tilting cab
Fold-back maintenance access doors
Easy access to battery
High sweeping power with no dust dispersion
Mechanical elevator system to pick up dirt and large pieces of rubbish
With extremely low dust generation, it's ideal for use in dust-sensitive environments (such as industrial applications, etc.)
Get to your working location quickly and comfortably
The chassis with hydro-pneumatic suspension (rear axle) ensures maximum comfort while driving
Disc brakes on all wheels for maximum safety
All-wheel steering for precise maneuverability