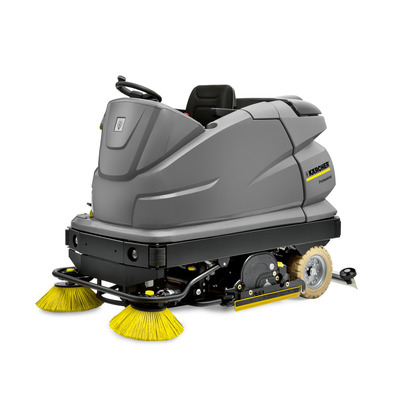 Dirt does not stand a chance.
The compact B 250 R rider scrubber drier features a roller brush with 47″ working width and a 66 gallon water tank, ideal for cleaning areas up to 58,125 ft²/hr. With the powerful battery (36 V / 650 Ah), long work intervals are possible. Thanks to the short wheelbase and the low device width, the machine impresses with its maneuverability and optimized area coverage. Even confined spaces can be cleaned thoroughly. Thanks to FACT, the brush speed can be adjusted to one of 3 levels according to requirements – Power Clean, Whisper and Fine Clean. The user-friendly EASY Operation switch and the intuitive color-coding enable extremely easy operation. With the eco!efficiency mode, turbine power, water volume and roller speed are reduced. Water and energy are saved and the run time is increased by around 20%.
Ride-On Floor Scrubber
Productive and versatile ride-on floor scrubber with dual side brushes for industrial cleaning applications.
Easy to use and easy to drive
The short wheelbase and narrow body ensure great maneuverability for
a machine of this size
Simple to drive, one-dial operation
No intensive training required
Operators will appreciate the comfortable seat during long shifts
Tool-free brush removal
With the automatic filling system, other tasks can be carried out while
the tank automatically fills itself
Long runtimes in standard mode
Eco-efficiency mode for even longer runtimes and less chemical
consumption
Designed for the Real World
Integrated brush head impact protection for durability
Color coded controls makes training easy