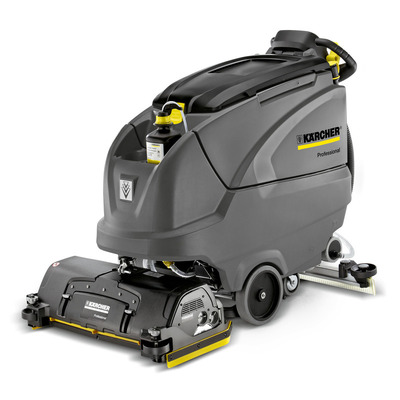 Excellent Maneuverability for Large Surfaces.
The B 80 W Bp battery-operated scrubber drier offers a variety of battery options (24 V, 225, 260 Ah and 255 Ah AGM). With brush head and disc brushes, fully automatic squeegee raising and lowering function, 30″ working width, large LCD color display, traction drive and KIK key system for protection against incorrect operation. Additional features include: eco!efficiency mode extends battery life, tank rinsing system for automatic cleaning of the dirty water tank without splash back as well as auto-fill function for convenient filling of the water tank. FACT technology, controls the speed of the roller brush and can be adjusted for different cleaning applications. Power Clean – 100% power, for stubborn dirt and polishing. Whisper Clean – 60% power, reduces noise levels and ensures longer working intervals with low power consumption. Fine Clean – 40% power, optimum for cleaning gray film from stoneware tiles in conjuntion with green roller brush.
Walk-Behind Floor Scrubber
The B 80 walk-behind floor scrubber with traction drive is ideal for cleaning floors at 23,000-32,300 ft²/hr. Configured with roller brushes and sweeping function of 26-30″ working widths.
All cleaning programs are indicated by large easy-to-read symbols on the large 4-color display, along with all major functions: battery capacity with remaining running time in minutes, water quantity, cleaning or transport speed, service interval indicator, dirty water tank full and cleaning agent dosage in percent.
Automatic lowering and raising of cleaning head and squeegee
The cleaning head and squeegee are raised automatically for reverse travel and lowered again when you change back to forward travel. This easy and convenient operation save wear and tear on both the cleaning head and squeegee.
The Auto Fill In option allows the B 80 to fill with fresh B 80 W. To fill, simply connect a hose with a conventional quick coupling. Filling stops automatically when the tank is full. During filling time the operator can perform other tasks, saving time and money.
Flexible Application Control
Technology (FACT)
With FACT technology, a Kärcher exclusive, the brush speed of roller brushes can be adjusted to different cleaning applications using three settings. Power Clean 100% – for stubborn dirt and polishing. Whisper Clean 60% – reduces noise levels and ensures long working intervals with low power consumption. Fine Clean 40%, the grey film on so-called fine stoneware tiles can optimally be removed in conjunction with the green roller.