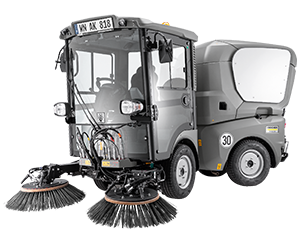 With the MC 130 you get the sweeper which makes a big impression. There is enough space in the two-seater cabin for the driver and a passenger. The larger sweeping width and bigger trash bin form the basis for extensive sweeping applications. And you can individually adjust the MC 130 depending on the type and quantity of dirt and working environment, for example with the individual brush control. The electronic control unit adjusts what you control via joysticks and shows you all key information on the display.
RELIABILITY THAT WORKS
A sweeper you want to work with throughout the year must be one thing above all: reliable. And ideally you want Kärcher reliability. The robustness of our machines is widely acknowledged. Their versatility is exemplary. And their performance is spectacular thanks to innovative technology. The highly professional sweeping
The spacious two-person cab, with entry on both sides, provides maximum comfort for drivers at work.
Ergonomic Operating Console
Intuitive operation enables easy and effortless working
Two joysticks enable intuitive control of the key functions
Change between transport and operating mode at the push of a button
Highly Flexible Sweeper System
Fresh water and water recycling system trap dust (PM 2.5 certified).
Pushed two-brush system with individual brush control
Hydraulic adjustment of brush inclination or the best work results
Electronically controlled, continuous hydrostatic drive in all gears
Permanent all-wheel drive
Automatic power distribution to all four wheels if traction is lost
Folding engine housing for direct maintenance and service access
Optional emergency lifting block for lifting the waste container and releasing the parking brake