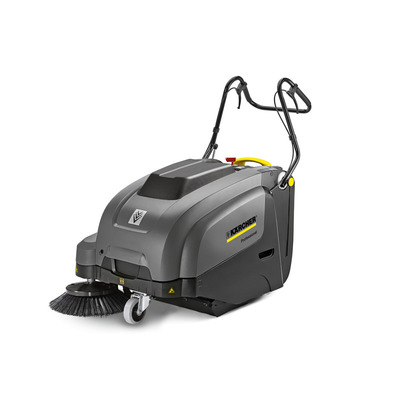 COMMERCIAL DUTY CLEANING
The KM 75/40 W Bp is the pinnacle of commercial-duty sweepers. Coming standard with maintenance free AGM batteries and an onboard charging system, the KM 75/40 W Bp is self-propelled, traveling up to 2.8 MPH, and can climb inclines up to 12%. The standard filter system is 99.5% efficient, preventing fine dust particles from re-entering the environment by utilizing a large suction fan and synthetic pleated filter. The handle-operated litter gate allows for collection of larger sized debris such as water bottles and aluminum cans for uninterrupted cleaning. An optional carpet kit allows the unit to sweep over carpet while the standard EASY™ Controls are easy to identify and simple to use.
WALK-BEHIND FLOOR SWEEPER 
KM 75/40 
The Kärcher KM 75/40 W Bp commercial-duty sweeper combines maintenance free AGM batteries with an onboard charging system and a 99.5% efficient filter system.
Waste Container with Trolley Handle
Waste container with recessed grips – easy to remove and empty.
Short disposal times.
Efficient Filter System with Mechanical Filter Cleaning
1.8 m² filter area for long operating periods.
Long-lasting thanks to washable polyester material.
Mechanical filter cleaning system with ergonomic handle.
No tools required for filter and brush roller replacement, enabling maintenance regardless of location.
Simple, convenient operation thanks to the logical arrangement of all control elements.
Standard symbols for all Kärcher sweepers.