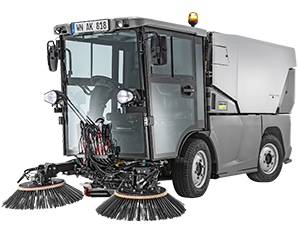 When you want the best
You need sweeping performance. You want comfort and environmental protection. Now you can have it all with the new MC 250. This compact, robust sweeper has a powerful drive that complies with the highest environmental standards.
The logical operating concept is intuitive. In the spacious, uncluttered and comfortable cab, you can enjoy the greatest comfort all year round. Thanks to the intuitive operating concept, you can take control immediately. And with a driving speed of 60 km/h, hydropneumatic suspension and fast access to
all service components, you can complete all works more quickly and effciently than ever before.
GO CRAZY FOR THIS MACHINE
Powerful flexible and eco-friendly: The MC 250 vacuum sweeper by Kärcher offers superior sweeping power and the highest level of driving comfort while operating and driving in urban environments.
Ergonomic Operating Console
Intuitive operation enables easy and effortless working
Two joysticks enable intuitive control of the key functions
All operating elements are arranged ergonomically and for a convenient overview
The spacious two-person cab, with entry on both sides, provides maximum comfort for drivers at work
ROPS-tested safety cab with anti-vibration mounting
Efficient ventilation system and sliding window on the right and left
Suspension seat
Highly Flexible Sweeper System
Cleanliness guaranteed – with a two or three-brush system
Pushed two-brush system with individual brush control
Hydraulic adjustment of brush inclination for the best work results
Three-brush system with optional weed brush for versatile applications
Get to your working location quickly and comfortably
The chasis with hydro-pneumatic suspension ensures maximum comfort while driving
Disc brakes on all wheels for maximum safety
All-wheel steering for precise maneuverability
Easy access to daily cleaning and maintenance spots
Rotary blower reduces maintenance effort and extends service life
Fold-back tanks and maintenance doors make cleaning and maintenance even easier