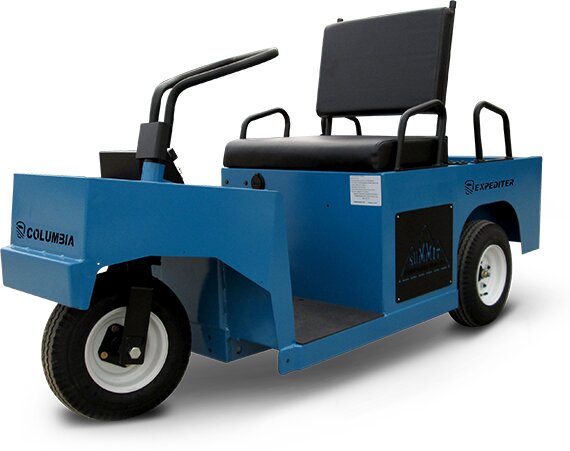 The Expediter is designed for maximum productivity without compromising speed or safety. Its narrow design, tight turning radius and impressive capacity rating enables you to deliver payloads through tight spots right up to the job site. A standard fold-down seat back converts the Expediter into a two-person transport, making it perfect for pulling double duty in any kind of facility. A variety of available options allow us to match just the right Expediter to your specific requirements.
Cushman Motor Company is a Columbia dealership.  We sell Columbia's complete line of all-electric industrial warehouse vehicles, utility vehicles, passenger shuttles, and carts. We sell new vehicles, OEM parts and offer factory trained service.  We're also experts at customizing Columbia vehicles, so if you're looking for a vehicle like the one pictured above (enclosed cab, heater, lockable cabvan), just give us a call.

THE EXPEDITER IS YOUR TOP-PERFORMING PRODUCTIVITY PARTNER, GETTING YOU WHERE YOU'RE GOING QUICKLY AND SAFELY.