The New KJ520 Narrow Sidewalk Snow Broom
Ventrac's KJ520 narrow sidewalk snow broom is perfectly sized for sidewalk snow removal on the most commonly sized walkways, parking lot paths, and entryways with a 48-inch angled working width. It features a 30-degree center pivot design and variable speed and rotation for reaching close to objects, buildings and curbs. This means the speed of the bristle rotation can be adjusted according to the amount of accumulation or rate of travel. Brush rotation can be changed from forward to reverse making it easy to move material away from objects like buildings and doorways or around vehicles.
With a faster tip speed and an increased hydraulic capacity, this broom clears down to pavement effortlessly. The 24-inch diameter broom has easily replaceable wafer bristles, capable of clearing snow, debris, and material in the most profitable way. The Narrow Broom also has 45% more hydraulic power than the HB580 Power Broom.
A notable advantage on this attachment is a top-mounted hydraulic motor for working in tighter areas where fitting an attachment can become an issue. Dual jack stands are included on this broom for easier and faster connection on the job site.
Want a demo? Call us at 612-333-3487 or fill out the form on this page.
---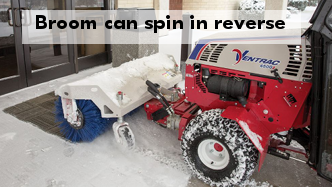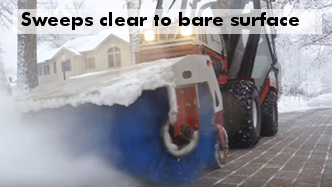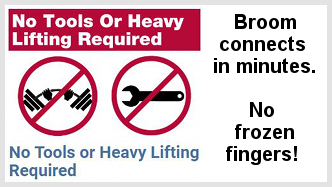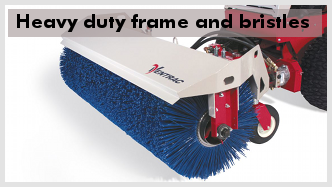 Need Something Bigger?  Go with the HB580
Ventrac's HB580 power broom sweeps and removes snow, leaves, dirt, light gravel, and even thatch. A corner-less frame design permits sweeping against curbs and allows for the cleaning of corners. Simple controls located at the operator's seat allow the broom to be hydraulically angled left or right or lifted up or down. Add the optional electric actuator and you can adjust the broom's rotation speed and direction (forward or reverse) – again, right from the seat. The broom stands alone when detached and is easily reattached. A self-leveling feature keeps the broom horizontal at all times and the nylon bristle broom cores can be changed in just a few minutes.
Working Width: 58 inches
Broom Diameter: 21 inches
Broom Speed: 220 RPM @ 3200 engine RPM
2 year commercial warranty