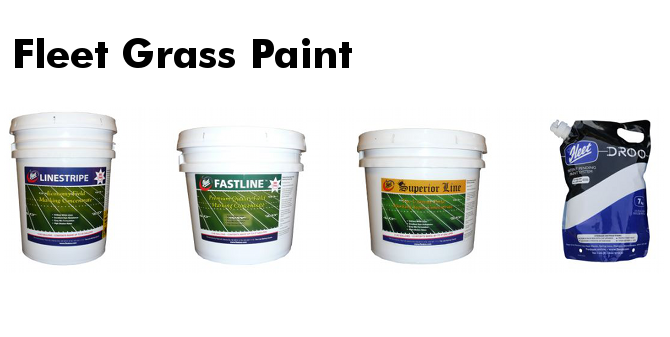 LINESTRIPE – Economy grass field marking concentrate. Supplied in five gallon jugs or 55 gallon drums. Dilution rate from 1:1 to 3:1, depending upon application. Eco-friendly. Rain resistant. Concentrated for easy shipping.
FASTLINE – Premium quality grass field marking concentrate. Supplied in 3 gallon jugs or 55 gallon drums. Dilution rates from 3:1 through to 6:1. Highly rain resistant. Unique physical properties ensure that a bright white line can be applied even when poor surface conditions apply. No mixing as paint disperses easily in water. Reduces maintenance by minimal settlement. Available in white, red, blue, yellow, and any custom color to order. Fastline colors are concentrated and are designed to be diluted with water.
SUPERIOR LINE – The ultimate field marking concentrate. Concentrated mix will yield up to 51 gallons of paint from a 3 gallon bucket. Dilute with 6 parts water for initial line marking. Dilute up to 16 parts water when restoring exiting lines. Specially formulated for Fleet machinery and easy clean-up. Concentrated mix saves on shipping. 3 gallons makes up to 51 gallons.
DROO – Ready to use striping fluid. Supplied in 1.2 gallon bags. Available in a range of colors. Spray application. Ready to use.
Watch this video – Learn why Fleet paint is superior to other paint products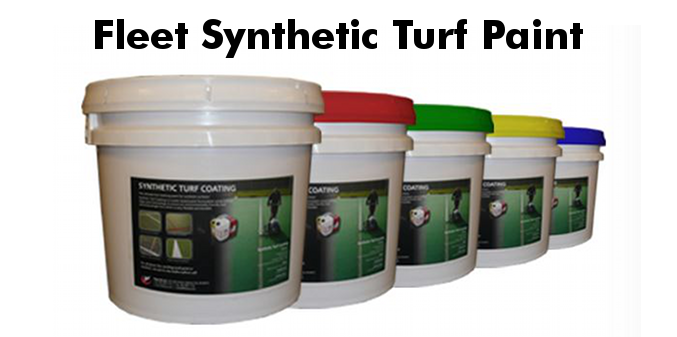 Fleet synthetic paints will work perfectly on water-based, rubber crumb, sand dressed and sand filled artificial surfaces. The paints are designed to flex with the carpet providing optimum performance from the line and the surface and provide an economical and long lasting line. Fleet Synthetic Turf Coatings (STC) are available in a range of vibrant bright colors, including white, red, green, yellow and blue.
PLEASE NOTE: These paints are not suitable in cold and damp conditions.
Key features: Supplied in 3 gallon buckets. Available in a range of colors. Designed for synthetic surfaces. Rain resistant and hard wearing.
Cushman Motor Company is an authorized distributor for FleetUS athletic field marking equipment and paints. Fleet athletic field striping systems are the highest quality field striping products on the market. Easy to set up and easy to use, the Fleet Kombi athletic field painter has been used at US Bank Stadium in Minneapolis, the National Sport Center in Blaine, and on athletic fields cared for by the St. Paul School District, the Bloomington School District and the City of Coon Rapids. Want a demo? Please contact us by calling 612-333-3487 or 800-759-5343 or by filling out the form on this page.
Key Features of the Kombi Athletic Field Marking System
* 1.5 up to 6″ line marking width6 gallon paint tank
* 1.5 gallon water tank
* Center or side Marking
* SLA battery
* Stainless steel chassis
* Diaphragm pump
* LRR non-puncture tires
* Adjustable stainless steel handle bars fits all user heights
* Heavy duty battery lasts 8 hours before recharge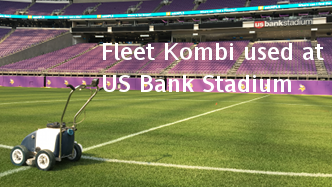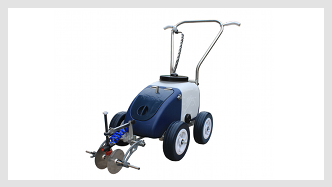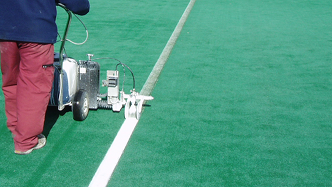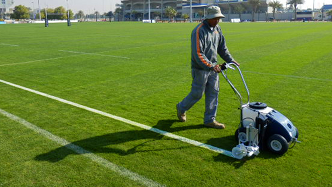 ---
Fleet athletic field paints are long lasting with excellent rain resistance, extremely high visibility, and produced with special formulations that produce a paint that flows virtually clog-free. Friendly to grass, Fleet athletic field paints are produced with environmentally safe raw materials, APEO free and close to the pH of water. We can help you choose the correct athletic field paint product for all your soccer field, football field, baseball field, softball field, and lacrosse field striping needs.
---