Ventrac Tractors – Best for Sidewalks
The powerful, reliable and super efficient Ventrac tractor let you service more sites per snow event. Key features include: A narrow, perfect-for-sidewalks operating width; 4-wheel drive traction; an articulated frame for unrivaled maneuverability and tight turning radius; an oscillating frame that keeps all wheels in contact at all times, making it easy to go up and down curbs; and the ability of one person to change attachments in less than one minute without tools.
Want a demo? Call us at 612-333-3487 or fill out the form on this page. 
---
A powerful snow tractor with a VERY comfortable cab   
Keep your operators happy with cab features like a roomy interior, suspension seats, fingertip controls, heater, defroster, windshield wiper, ergonomic controls and exceptional visibility.
---
Snow brooms specifically designed for clearing sidewalk snow
Sweep down to the pavement with Ventrac's rotating snow brooms. From the seat, operators can hydraulically adjust the broom angle left or right or lift the broom up or down. The KJ520 broom offers a 48-inch angled working width and the HP580 offers a 58″ working width. Both provide a corner-less frame that allows sweeping against curbs; adjustable speed; and forward and reverse broom rotation.
---
Drop spreaders designed for de-icing sidewalks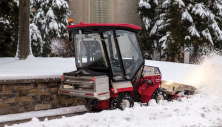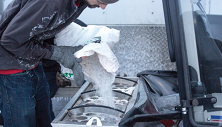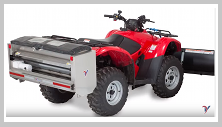 Save money on de-icing product with the Ventrac drop spreader.  Can be mounted on ATV's, other tractors, and utility vehicles. Much better than typical broadcast spreaders, the all stainless steel, no rust Ventrac sidewalk de-icer reduces costs by reducing waste.  Precision drop control means product goes where it's supposed to go – on the sidewalk and not flung into grassy areas or flower beds. The drop spreader features a perfect for sidewalks 40″ width and an innovative agitation system that prevents clogging.
---
Two-stage snow blowers throw snow up to 40 feet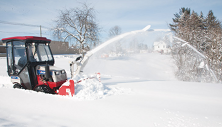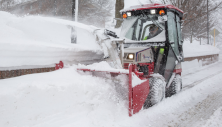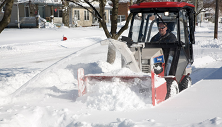 Throw that snow off the sidewalk and aim it exactly where you want. The KX 523 snow blower (used with the Ventrac 4500 tractor ) features a snow capacity of 4500 lbs/min and a 220 degree rotating discharge chute. The LX423 (used with the Ventrac 3400 tractor) features a snow capacity of 2500 lbs/min and a 180 degree rotating discharge chute.  Both snow blowers feature a 16″ diameter augers, adjustable cast iron skid shoe discs at the rear, high carbon hardened steel shoes at the side, and a reversible high carbon hardened steel cutting edge.
---
V-blade snow plow – Perfect for sidewalks

The Ventrac V-blade snow plow offers excellent control over where to put the snow. Hydraulically change the angle of either wing, or switch from V-plow to a scoop or straight blade right from the operators seat. Blades feature adjustable cast iron skid shoe discs, reversible high carbon hardened steel cutting edges, and a center shoe for gliding over rough terrain.
---
Ventrac SSV – Sidewalk Snow Vehicle – Industry-first 36″ width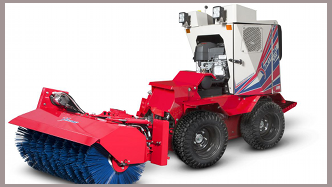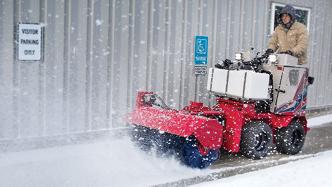 The new Ventrac SSV makes it easy and efficient to manage snow and ice on sidewalks. The SSV is a dedicated sidewalk snow removal machine. It features an 18.5 HP Kawasaki commercial engine, 8 MPH top speed, 4X4 skid steer drive system, stainless steel hardware, and high ground clearance for curbs.