Why Ventrac? It's simply the best compact tractor you can buy.  But you don't have to take our word for that, take a look at the videos and images on this page and you'll come to understand why. Cushman Motor Company has been with Ventrac for some time now, gaining a reputation as one of Ventrac's top dealerships nationwide. We offer new Ventrac tractors and attachments, used equipment, OEM parts, and factory trained service. We also rent Ventrac attachments for use in the Minneapolis-St. Paul metro area. Want a demo? Call us at 612-333-3487 or fill out the form on this page.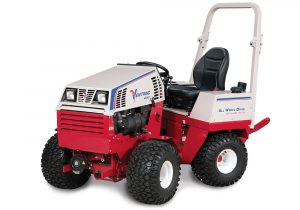 It only takes one test drive on this incredibly agile, yet power-packed tractor and you'll know that the Ventrac 4500 is in a class of its own. An innovative design combines all-wheel drive, the Ventrac FlexFrame, and powerful engines to give you unmatched stability and control to get work done. Most importantly, the Ventrac 4500 is designed to be the most fun you'll ever have on a tractor.
MODELS
4500K VANGUARD M54 39.51130
4500P KAWASAKI FD851D 39.51207
4500Y KUBOTA D902 39.51209
4500Z KUBOTA WG972-GL 39.51208
VERSATILITY THAT WORKS
At its core, the 4500 is a compact tractor, but it is very different than what most are used to seeing and that is a great thing. The purpose of a tractor is to perform tasks more efficiently, with better results than hand labor. The Ventrac 4500 plays on these advantages, then takes it to the next level. When coupled with the extensive line of Ventrac attachments, this tractor is a great machine for a variety of professional users.
4500 Tractor Standard Features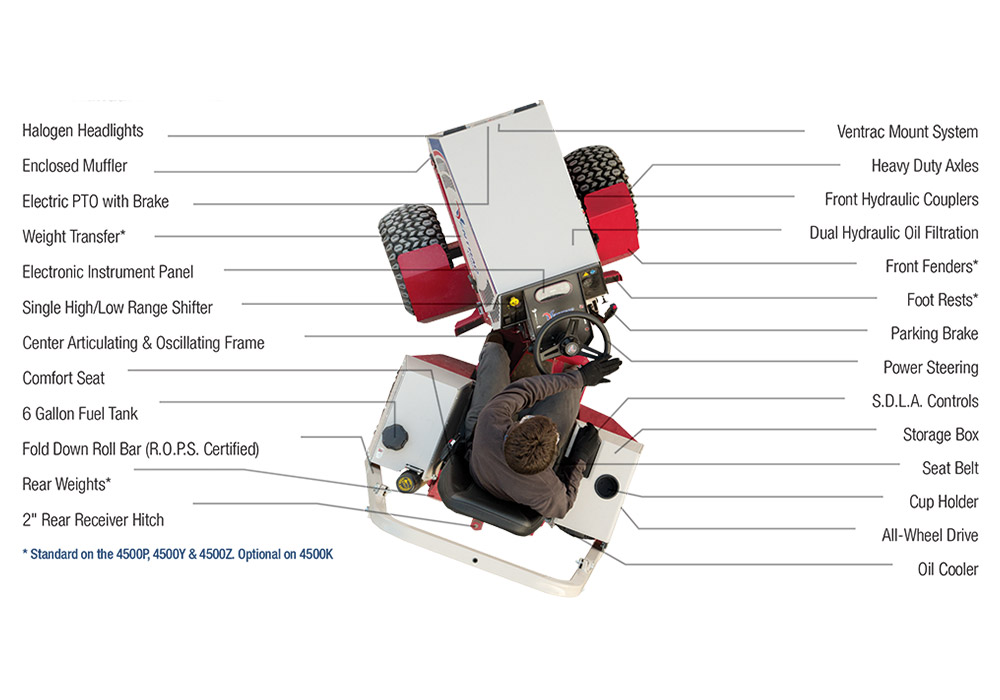 Increased Safety on Slopes
The unique design qualities of Ventrac has made a world renowned statement for its ability to work on steep slopes.
With a little practice, you can switch almost any attachment within a minute, without any tools or heavy lifting.
Built to handle all snow conditions, from light snowfalls to winter's wrath. Ventrac gives you a peace of mind for easily clearing snow.
Learning to drive a Ventrac is simple and intuitive with the patented S.D.L.A. Controls.
Full-time, all-wheel hydrostatic drive delivers maximum performance and traction to help you get the job done.
Ventrac isn't a big-box store throw-away tractor. These tractors are built for industrial use with commercial engines, and heavy duty transaxles for reliable performance year after year.
A hydraulically powered steering system provides responsive and effortless steering control.
Ventrac FlexFrame allows the 4500 tractor to both articulate and oscillate. These benefits allow the machine to crawl over terrain no matter how it changes, allowing more stability and capability to work on surfaces that aren't perfectly flat.
Front-mounted attachments let operators see the work out front. This forward thinking design allows for better visibility so operators can work more confidently when close to landscaping, buildings or other objects.
Ventrac's versatility allows you to work all year-long. From spring to summer and fall to winter, Ventrac has the versatility to meet your various needs, while getting the job done quickly and with ease.
Versatility – Light Footprint
The Ventrac 4500 tractor utilizes large flotation tires on an articulating and oscillating frame to maintain a light footprint and impressive agility. This greatly reduces turf disturbance.
Ventrac's innovative weight transfer system improves traction, braking, and side-slope steering security by shifting a portion of the front attachment weight onto the tractor.