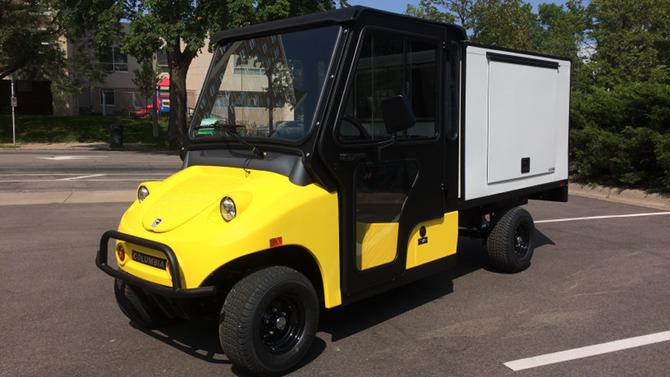 Industrial Vehicles | Utility Vehicles | Passenger Vehicles
Cushman Motor Company is a Columbia Parcar dealership.  We see their complete line of all-electric industrial warehouse vehicles, utility vehicles and passenger vehicles, including vehicles with enclosed cabs and heaters! We sell new vehicles, OEM parts and offer factory trained service.  To see specifications on all of their vehicles, please visit the Columbia Parcar website.
Looking for used Columbia equipment?  Click here.  Questions?  Call us at 612-333-3487 or 800-759-5343.  Email us by filling out the form on this page. We demo everything.
Click each image to learn more about the equipment you see on this page.  These vehicles represent a small fraction of the Columbia Parcar commercial grade industrial vehicles, utility vehicles and passenger carts we sell.

---
We carry all of Columbia's industrial warehouse people movers, burden carriers and tugs including the Stockchaser, Chariot, Payloader, Expiditer and MVP.  Who buys Columbia Parcar's industrial vehicles?  Smart companies like Crenlo, Bergen's Greenhouses, Superior Third Party Logistics and the New Page Paper Corporation; and smart government entities like Three Rivers Park District and Minneapolis Parks and Recreation.
We carry all of Columbia's all-electric utility vehicles, passenger carts and passenger shuttles including the new Summit SU5 Utilitruck, the standard Utilitruck, the Shuttle and the street legal Summit LSV/NEV Passenger series.  Who buys Columbia's utility vehicles?  Smart colleges like Macalaster and the Minnesota State University system; smart government entities like the Three Rivers Park District.