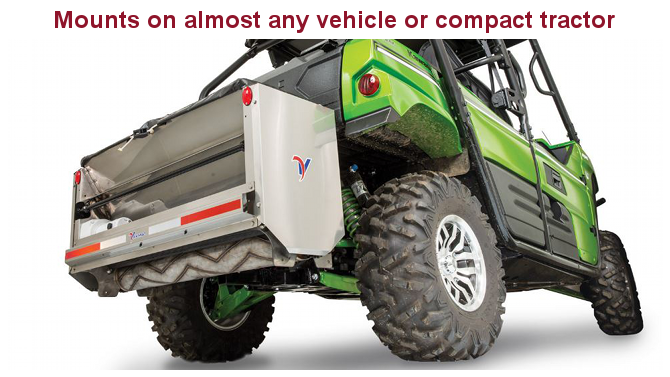 The Ventrac Sidewalk Drop Spreader is simply the best commercial grade drop spreader on the market today. It works better than any broadcast salt spreader and you can attach it to virtually any ATV, truck, or compact tractor. It is the ultimate tool for spreading an array of deicing materials with precision flow control. Designed with a narrow frame and a 40″ drop pattern, this spreader is perfect for spreading material on sidewalks and other narrow walkways.
What makes it so great?
You don't need a Ventrac – it mounts on almost any vehicle or compact tractor
It doesn't clog – the unique agitation system keeps materials moving smoothly
It won't rust – it's constructed from stainless steel
It saves you money – it has precise spread rate controls and a precise spread pattern
It saves you time – you can go up to three miles before you have to refill
It's simple to operate – just use the hand held controller
It spreads virtually anything – sand/salt mix, pelletized material, you name it
Want a demo? Call us at 612-333-3487  and ask for Steve Scanlan or Tim Commers.  Email us by filling out the form on this page.
Watch the video! Click each image for more details.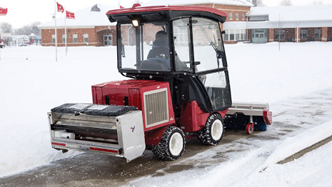 The stainless steel hopper prevents premature failure due to rust and corrosion. The innovative agitation system prevents material bridging and eliminates the need for a traditional, noisy vibration motor.
The wireless remote control regulates five motor speeds for quick flow adjustments from the operator seat. Material is evenly distributed using a unique compression roller system. An easy gate adjustment allows for fine tuning flow rates based on the type of material being spread and the desired quantity being applied.
STANDARD FEATURES
Capacity 2.5 ft3/200 lbs
Wireless Remote Control
Stainless Steel Construction
Hopper Cover
Universal Mounts Available
Innovative Agitation System
2-year commercial warranty
Low Maintenance Design
12V electric drive/transmission
Reliable LEESON electric motor