All-Season Turf Care Tractor Mowers – Ideal for Land Care Contractors and Parks Professionals
Cushman Motor Company sells Ventrac, Holder and Steiner commercial grade compact tractors, their associated tractor mounted mowing decks and all of their turf care attachments. We also sell parts and offer factory trained service.  Our tractor mowers are rugged high performance machines designed for the land care and parks professional who must handle every type of turf care challenge. Ventrac, Holder and Steiner are true all-season compact tractors that do it all.  Why limit your investment to just mowing when you can use these tractors to aerate, sweep, lift rock, remove snow and much more.
---
Turf Care Videos
---
Click each image to learn more about the turf care attachments you see on this page. 
The images represent a small fraction of the mowing tractors and tractor mounted attachments we offer.

---
Center Articulating and Oscillating Frame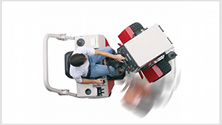 Most of the compact tractors Cushman Motor Company sells use a center articulating and oscillating frame. Why does this matter?  Do you work in confined areas containing obstacles like trash receptacles, lighting structures, planter boxes and more? Then you need a center articulating frame. Unlike a zero turn mower, skid-steer, or straight frame tractor – the rear wheels of an articulated tractor follow in the same path of the front wheels. This means the front or rear attachments follow the same path as the tractor, minimizing the space required to turn and reducing the likelihood of hitting an obstacle.
Center articulation also means that the tires at the outside of the turning circle always travel at the appropriate speed relative to the tires at the inside of the turning circle. This results in fewer turf gouges and happier customers.
What about oscillation?  An articulated tractor with an oscillating frame keeps all 4 drive tires on the ground even on the roughest of terrain. Result: Maximum traction when you need it the most, increasing your agility and safety on slippery slopes and rough terrain.